March Overview & My Top 5 Recs
Hello lovelies! It's April already and I have no idea how that happened. To wrap up the month, I've picked five of my favourite reads from the past month, so you can check them out if you're looking for something to read (because aren't we all?)! I realised that I read quite a few 5-star books this month, so obviously I've had a pretty good reading month! :)
A Gathering of Shadows by V.E. Schwab.
I've talked about my love for A Darker Shade of Magic and it's sequel AGOS so much on here, but I seriously love the world (fantasy setting with four alternate Londons) and I'm already missing the characters!
Rebel of the Sands by Alwyn Hamilton. Another book I absolutely devoured! With influences from Middle Eastern and Persian mythology, and the feel of a Western to it, you could say this one is something slightly different! A YA fantasy with wonderful story-telling, a badass gunslinger heroine, and a plot that just keeps moving.
A twist on Jane Eyre, where our protagonist starts killing people (for some pretty legit reasons). This is just delightful and you should definitely read it because of the charming characters, the wonderful writing, and the great way Jane Eyre is used as an inspiration while still making the story entirely its own.
You Know Me Well by Nina LaCour and David Levithan. This one isn't set for publication until June so my review is scheduled until the end of May - but you should already add it to your list of awesome summer releases! This book focuses on LGBT themes when you're already out - so it's a bit of a different take on the other LGBT books in the YA genre. You Know Me Well focuses on growing up, on friendships, and on finding love. I really only wished it was a tiny bit longer :)
All the Bright Places by Jennifer Niven. I'm doing a discussion post related to this later in April but for now: this book just broke me. Another YA pick for my list, but this one deals with mental health, and I just think it has a lot of important things to say about how we as a society try to 'handle' this, especially in teenagers. I love this book although I spent a fair while just crying afterwards.
A week later I'm still at the point where every time I think about it, this happens: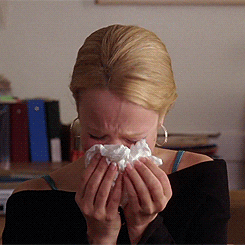 There are so many I'm too embarrassed to get a photo of them all... So here's all the most of the books with white covers I got this month!
This wine I'm currently drinking.


Once Upon A Time! My bestie was over for a visit a week ago, so we watched a dozen episodes to catch up on the new season. Things are getting so intense!
In other exciting news, I hosted an impromptu Read-A-Thon in March! I'm really excited to do another one at the end of April - maybe another one that includes a writing component since some of us are doing Camp NaNo. If you're interested in hosting it with me (or in hosting a later one, even), let me know!
How was March for you? Did you read any books you'd recommend me? Have we read any of the same books? Is there anything you're absolutely obsessed with at the moment?